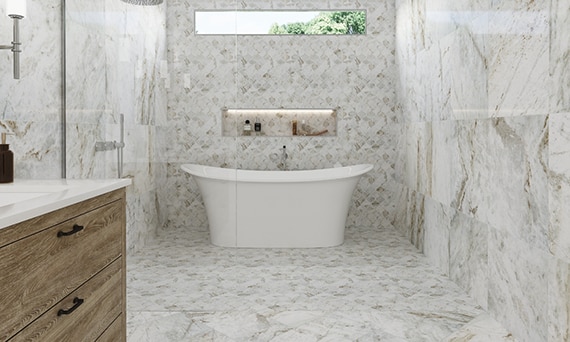 Bathroom Tile Ideas for Creating a Spa Environment
Whether your style is classic and traditional or contemporary and urban, the right bathroom tile can help transform your space into a spa-like retreat. Read on for ideas to help inspire and guide you toward finding the right tile for your new oasis.
Inspire Relaxation
A relaxing spa environment in your master bathroom is what you need after a busy day. When creating your personal spa, think of décor and elements that are relaxing to you. Do you prefer a simple, serene atmosphere with few distractions, or is the ambiance of a Tuscan villa more your style?

If minimalistic spaces help you to relax, go for a monochromatic look. You can achieve visual and textural interest by using multiple sizes or shapes of tile in a single or similar color. For example, tile the lower half of the walls with Color Appeal subway tile, then add a mosaic tile trim in the same color. You can also use the same mosaic tile as an accent around mirrors or alcoves. Furthermore, spruce up a monochromatic color scheme by adding glass or metallic tile accents in similar or contrasting colors.
Add Unanticipated Elements
Want to add an edge to your spa retreat? If so, incorporate metallic tile into your design. Although the key theme in spa design is peace and relaxation, you don't have to limit your bathroom tile designs to simple or solid colors. For example, create a soothing environment using neutrals and accent one wall with a soft metallic patterned tile. You can also arrange tile in an unusual configuration to give it that extra oomph. For example, place traditional subway tile vertically instead of horizontally or mix it up on large walls to create visual interest and break up monotonous looks.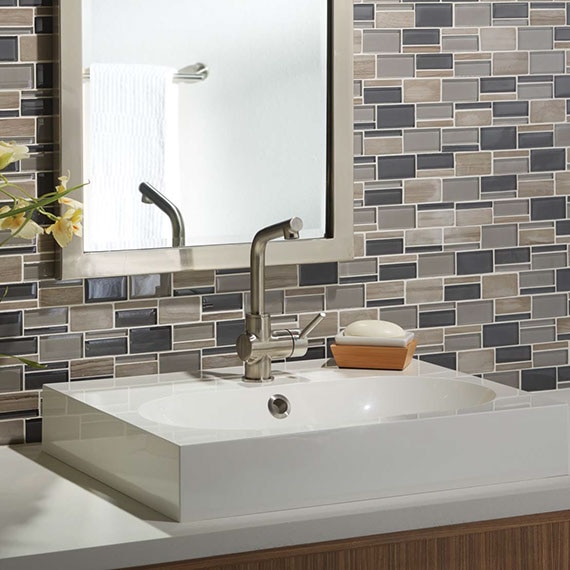 Mosaic tiles are also great for creating a relaxing space that still holds visual interest. They can be used to cover an entire wall or as a beautifully designed accent within a simpler tile design. Depending on the color scheme you choose, mosaic tile can offer a soothing palette of neutral tones or it can be used to accent mirror surrounds and backsplashes in bright color combinations.
Color Appeal glass mosaic tile is a great example of mosaic patterns in neutral color schemes or bolder colors. This collection of glass mosaic tiles, ranging in color from neutral and pastel to bright solids and blends, offers the glistening essence of glass which infuses a sense of relaxation into any bathroom.
Invite Mother Nature Inside
Including natural elements in your design is a great way to promote relaxation and unwind. Create your natural home spa design by incorporating your favorite places in nature for a timeless result.

To create a feeling of soothing sand and calming waves in your bathroom, choose blue and green tiles for your bath or shower surround, then pick neutral, sandy tones for the floor and walls. Use tiles that have rounded edges for a softer look, such as hexagonal mosaic tile, which resembles the sea and adds dimension to your seascape spa getaway.
If a lakeside cabin is more your speed for relaxation, utilize forest-inspired tile. For example, use wood-look tile, such as Waterwood or Creekwood, for flooring, and enhance the look by incorporating tiles and accents that feature botanical colors.
Create a Focal Point
To truly transform your bathroom into a relaxing paradise, include your favorite plant or décor item as a focal point. Understated décor works best and working a favorite thing or two into your home spa décor will make your spa environment more personally pleasing. Frame a small area of your bathroom with bold, colorful tile to give your favorite personal items, like plants or candles, a perfect backdrop.
Whether you're designing a spa retreat for your own home or a client, understanding what represents relaxation to you or your client is essential. Knowing this will help you create a space that is meaningful, enjoyable and relaxing for those who spend time there.
Keep It Subtle
Less can be more when designing your urban retreat. The goal is to keep your design clean and simple, yet innovative and relaxing. You can transform your bathroom to resemble a cool grotto or a rustic retreat by combining
natural stone
tile,
wood look
tile, and glass tile in neutral shades. By working with inspirational themes rather than attempting to create an exact rendition of your favorite place outdoors, you won't go overboard with the details.