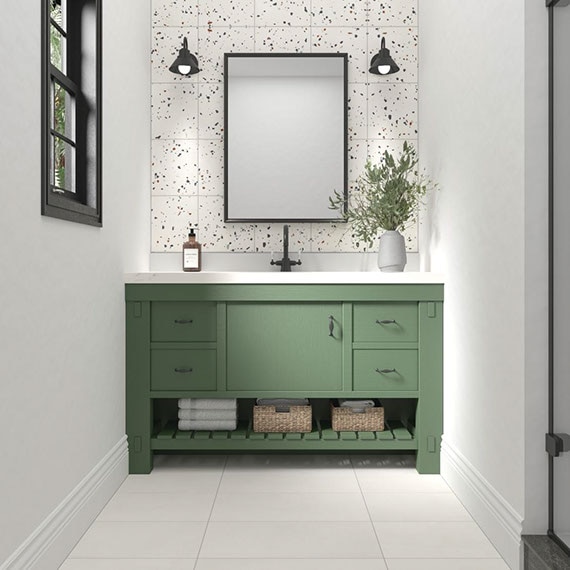 Using Tile in Small Bathroom Designs
If you're working on a small bathroom renovation that you want to look stylish and contemporary, rather than tight and cramped, tile is the perfect material to incorporate into your design. Concerning design, the right tile can help you accomplish your creative goals.

Tile can be used in small bathroom designs to enhance the space, while making it look and feel bigger. Read on to find other helpful ways to use tile in a small bathroom.
Choose Space-Enhancing Colors
The colors you select to incorporate into your design are more important than ever when you're working with a small space, so to make a small bathroom feel more spacious, it's critical that you choose the right colors. Bright whites, soft pastels, and light-colored shades fill a room with light, giving it an open, airy feel, and those colors are always a good choice.
Make sure the elements of the space are light, neutral shades, even to the smallest details, like fixtures. Opt for a towel bar or soap dish in white, almond or another appropriate complementary shade to add a clean, contemporary feel to the entire space.
Tile Half the Walls to Open Up the Room
Small bathrooms can easily feel closed and cramped especially if you aren't working with the ideal layout and design. So, to open the space, instead of tiling the bathroom walls to the ceiling, only tile halfway up the wall in a small bathroom. This will help to elongate the walls, and make the entire space feel larger and look more open.
To finish the design, top the tile with a decorative tile accent strip or chair rail to give it a polished look. Impresa ceramic tile is perfect for bathrooms, and it comes in a variety of light shades that work well in small bathrooms.
Create an Illusion of Space with Metallic or Glass Tile
Mosaic tile creates a beautiful focal point in any bathroom, so it's a great way to make a small bathroom more interesting. By adding reflective glass and metallic tile, you'll be able to draw in light to make the space look bigger. Mosaic tile that has reflective qualities, such as the Color Appeal glass tile collection, helps to give the space texture and creates an illusion of depth and space. And aside from making the small room appear larger, this tile is also trendy and modern, so it adds lots of style.
Tile can make a huge difference in small bathroom designs. It allows you to experiment with patterns and colors to create looks that add personality and the illusion of more space to your bathroom. Though it may be a small room, with the right design and the perfect tile, a small bathroom can still be a showstopper.