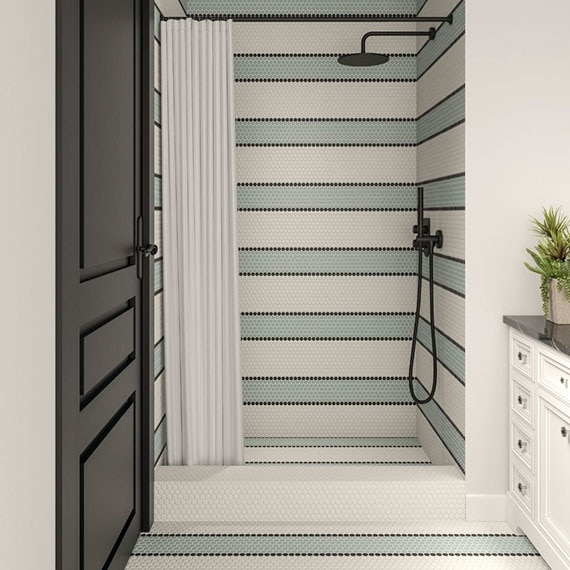 3 Bathroom Designs Inspired By Summer
Get lost in the beauty of a summer getaway right in your bathroom by designing with tile. Brightly colored tile, like shimmering ocean blues, bright yellows, or shades of sea green evoke the feeling of sun-kissed beaches and ocean breezes, and with American Olean's large selection of mosaic shapes and styles, you can create your private escape.

From tranquil blues, jewel-toned turquoise, or warm amber hues, beautiful tile designs preserve the warmth of a summer retreat in your space year-round.
1. Bring in the Blue
Blue is always a great choice for bathroom décor. Whether you're creating a navy and white striped nautical theme or replicating flowing water with lighter blues, blue mosaic tile can create the look you want.
To create stunning backsplashes or shower surrounds, consider Color Story Wall navy and ice white laid in a herringbone pattern. This color combination adds depth to neutral décor.
One or two rows of sapphire blue glass tile trim threaded throughout a room, for example, can create a unique sophisticated look, while a bright blue glass mosaic tile backsplash behind a painted white vanity can infuse a sea-inspired pop of color without overpowering the room.
2. Use Glossy Tile to Add Dimension to Muted Décor
If your bathroom design is a little on the plain side, incorporate glossy tile to add interest and brightness without abandoning your original design. Glossy tile has a reflective property that can give a room a beautiful glow and using glossy tile in small installations can recreate that sunny shimmer that will spruce up your existing bathroom décor with a summery feel.
A slight contrast of finish can enhance the monochromatic design, and a simple sparkle from just one or two rows of tile around your bathtub can modernize the look of your bathroom in a snap.
3. Create an Accent Wall of Color
Even with limited wall space, bathrooms are perfect spaces to create bold designs that won't overpower the eye. Extend a tiled backsplash into a full colored accent wall or add glass mosaic tile to a partition that separates your tub and shower.
Tile in a contrasting color placed on an accent wall can also draw attention to a focal point. For example, surrounding an antique tub with a pink tile mosaic provides a dynamic backdrop. Another option for designing beautiful feature walls is to create a calming waterfall effect by using a few linear columns of bright tile mixed with a darker tile on your shower walls.
A summer-inspired bathroom design provides a fabulous opportunity to experiment with bright colored tile. Make the most of the natural light in your bathroom by incorporating tile. It will not only capture and reflect light but add brilliance to your space. Even if you're thousands of miles from the beach, you can still recreate a summer respite at home with the use of tile.