8 TRENDS IN BATHROOM REVOCATIONS
Throughout time bathrooms have evolved from basic, often overlooked areas of the home to lovely spa-like spaces. Modern bathroom upgrades are now relaxing, personal sanctuaries that provide the respite and an escape from the daily grind. If you're considering modernizing your bathroom, check out these popular trends.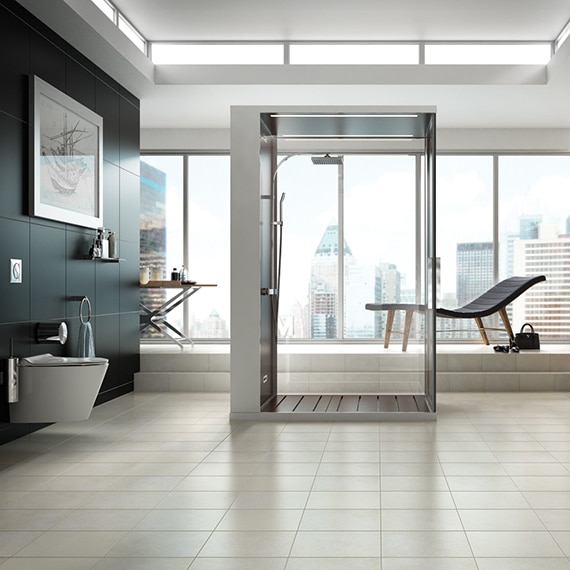 1. Dramatic Tile Is Trending
Floor and wall tile designs are super trendy and have become increasingly dramatic. Textured tiles and glass mosaics add stunning depth to walls and they are more durable than wallpaper. Modern bathroom tiles are great for creating focal points, and installing linear tiles or geometric shapes, such as octagons or hexagons, instead of simple square tiles make these designs even more attractive.

Tile also comes in a variety of sizes, making it easier to scale your design to fit the size of your bathroom. While monochromatic schemes are still popular for tile floor design, multicolored tiles provide a wider range of design options. Punctuating glass accent tiles on the walls guarantees an updated, contemporary look and alternating dramatic black and white tiles also provide a modern twist.

In addition to modern tile styles, the use of grout as a decorative accent has also been noted in bathroom design trends. For example, highlighting a white subway tile with dark gray grout puts a modern twist on a classic style.
2. ENVIRONMENTALLY FRIENDLY PRODUCTS ARE IN DEMAND
The bathroom is one part of the house where you can really be environmentally conscious. Low flow toilets use much less water per flush, sensor-activated faucets minimize water usage, and designing with tile is an environmentally-friendly choice. Due to its natural composition and long-life cycle, which limits the future use of natural resources and flooring materials, tile, more specifically glass tile, is also increasingly being manufactured with recycled materials.
3. SHOWER AND BATHTUB STYLES ARE SHIFTING
Modern bathroom trends have shifted in favor of separate shower and bath areas. Now, showers are larger and feature walk-in entries with frameless glass doors. Though whirlpool tubs have largely replaced classic, freestanding tubs, some have become the focal point of many contemporary bathrooms – design a tile accent wall behind a freestanding tub to create a dramatic effect.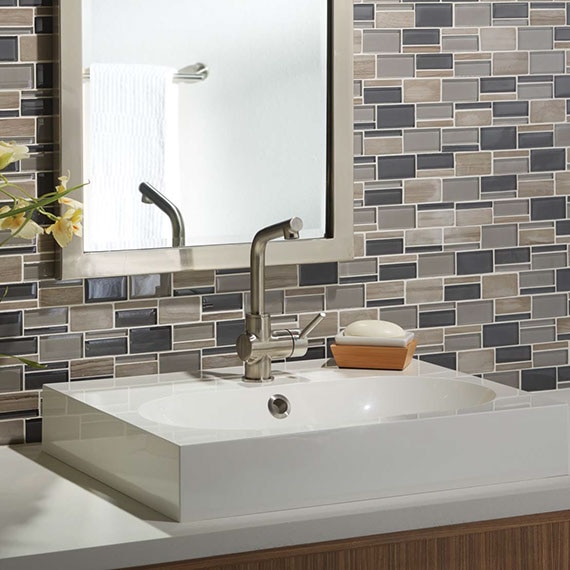 4. Spa-Like Serenity Is Sought After
Many modern bathroom remodels are inspired by spas, and after devoting significant time and energy to a bathroom renovation, you'll want the result to be serene and relaxing. Using glass tile in your bathroom that easily reflects dim light adds a tranquil, yet luxurious feel to your space.

Additionally, heated tile floors are a popular upgrade in modern bathroom renovations, which adds another layer of opulence to your bathroom. Explore our collection of glass tiles for your bathroom remodel.
5. NATURAL ELEMENTS ARE COMMONLY USED
To add a touch of exotic style and warmth to your décor, incorporate porcelain wood-look tile into your design. Integrating natural and natural-looking materials into your bathroom design creates a calming, ethereal atmosphere. Also, to complement your natural décor, maximize natural lighting, install a small waterfall that features stones or arrange tropical indoor plants throughout the space.
6. Gray Is the New Neutral
Colors fall in and out of style, but gray is here to stay! Recently gray has surged in popularity and is now touted as the new neutral. Gray color schemes from light and feathery shades to dramatic slate and charcoal colors are being used by designers in many contemporary designs. In contrast, once popular beige tones have become less in-demand while gray continues to take over.
7. INNOVATIVE LIGHTING IS BEING INCORPORATED
Adequate lighting is extremely important in a bathroom, especially above mirrors and vanities. In addition to traditional bathroom light fixtures above the sink, designers are finding innovative ways to integrate natural light and new illuminating fixtures. Installing glass mosaic tile on your walls reflects light, brightens the room and helps to maximize your natural light.

LED lighting is now present in modern bathrooms to add colorful illumination. LED strip lights can highlight areas, such as the mirror or sink, or for that extra brightness necessary to power through a dark morning or nighttime routine. To add a touch of elegance, feature a glamorous chandelier.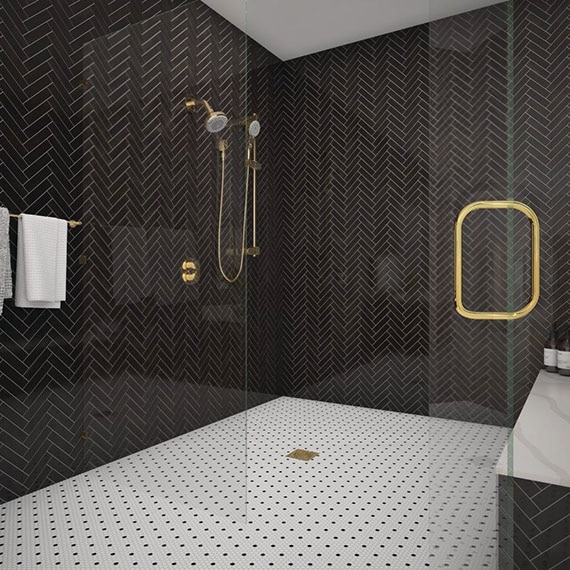 8. Universal Design Is Being Embraced
When renovating a bathroom, it helps to think long-term to maximize your investment. Your goal should be long-term and to get many years of use out of your new bathroom. With that thought in mind, universal design trends that have gained in popularity and will leave you with a classic look you will continue to love over time. Universal designs feature neutral colors and designs that appeal to most people. They're designed to allow everyone age gracefully in their home - even if the bathroom is in a multi-generational home. Larger-sized, walk-in showers with benches are one example of a universal design feature. Another element is increased vanity height, which helps to prevent back strain when engaged in your morning routine.

A complete bathroom remodel is not an everyday project, so keep in mind that modern bathroom renovations often go beyond trendy styles. Many bathroom upgrades can make your space more environmentally friendly, appealing, and more user-friendly – universal design means creating a functional living space while taking advantage of the latest advances in home design and technology.

Bathroom renovation trends come and go, and you're investing in more than the aesthetic, so it's important to stay true to personal style, and find classic elements that you can fall in love with over, and over again. Explore our vast selection of tile for any design.