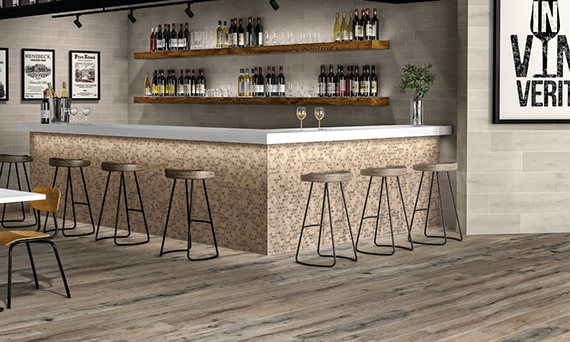 Basement Bar Ideas: How to Create A Speakeasy-Inspired SpacE
During Prohibition, American bars literally went underground, from brightly lit street-level storefronts to dark cellars that were only accessible by secret passwords. And though Prohibition laws were lifted decades ago, speakeasy-inspired bars are still trendy urban destinations. So if you're looking for design inspiration for speakeasy basement bar styles, read on to discover ways to nail this vintage look.
Choose a Specific Design Theme
For retro urban speakeasy inspiration, look for authentic, old black-and-white images online. You'll see that mahogany and walnut were popular materials during the 1920s, and you can draw inspiration from the dark wood billiard tables, upright pianos, and old-style iceboxes that were popular during the era.
To recreate these looks, incorporate the Bryson Valley series in Truffle Barnwood in your design, then choose a stainless-steel sink with a silver metallic backsplash and marble countertop. Visually tie the bar backsplash and flooring together by placing matching square tiles on the floor.
For a different look, select a white ceramic tub sink with a matching subway tile backsplash or a blend of black and white Color Appeal mosaic tile and to achieve a refashioned version of an old backroom bar. Finish the design with a classic look marble countertop.
Add a Vintage Floor
Keep the Prohibition vibe going in your basement bar design with a vintage-looking floor. While the real deal was likely outfitted with unpolished poured concrete, and you can achieve a similar look by incorporating the weathered concrete look of Union.
A storefront speakeasy, which was usually fronted by a grocery shop or a deli, would have most likely had wood or a black-and-white linoleum floor. To mimic the wood floors of this era, consider wood-look tile, such as Waterwood or Creekwood. This is a perfect material for the basement because it's resistant to mold and extremely easy to clean. And if a retro black-and-white pattern is more your style, you can't go wrong with simple black and white ceramic tile.
Don't Forget the Details
Whatever you decide, make sure to add some drama to your basement speakeasy. Add secret doors and nooks that are hidden by bookcases to heighten the drama of your design. You can even build a faux milk delivery box near the entryway or add a faux trap door to your floor and hide it with an antique oriental rug. These unique touches add visual appeal and keep your guests entertained.
And while you should have fun with the details, don't forget to maintain practicality, too. For example, update your bar with modern, convenient built-ins. Install a mini-fridge behind the bar, along with cabinets and shelves for your cocktail glasses, serving plates, and other knick knacks. Reserve space for at least one keg of beer and taps, and discreetly add a microwave oven in an inconspicuous place to warm up toddies and liquids for hot drinks on a cold night.
Whichever story you choose to tell with your retro-inspired basement bar, use these inspirational tips to choose the right tile and add the right detail. Your finished space will be worth making a toasting in the end. Cheers! Check out these speakeasy-worthy tile products.