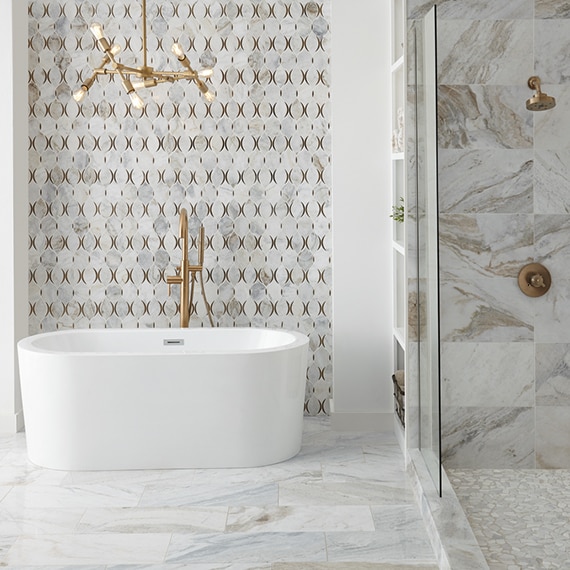 Bath and Shower Remodel Tips to Connect New and Existing Materials
A master bathroom or shower remodel is exciting for homeowners because the space can be personalized and transformed into a relaxing retreat. The trick for creating a cohesive look is selecting materials that not only produce an awesome master bathroom but also visually connect the bathroom and the master bedroom.

Learn how to seamlessly connect your shower or tub with the rest of the master bath by utilizing the following design tips for inspiration.
Choose Colors Carefully
It might seem obvious, but the tile color you use for your shower or bath remodel can make or break the design if you keep the rest of the room status quo. Forget about perfectly matching the tile used in the new project to any other tile in the room. Changes in natural coloration, from slab to slab, for instance, can make a future match practically impossible.
Rather than aiming for a close match, go for contrast. For example, if the bathroom boasts a light gray and white palette, give your new shower or tub surround a modern upgrade with dark gray tile and a prominent white tile border or accent. The color family remains the same, but by opting for a richer or darker shade, the new stone or tile refreshes the space without creating a visually jarring effect.
A combination of dark gray and white also pairs well with existing cream or black accents, or vice versa. The idea is to stick with a neutral color palette. Natural, pale green that has a hint of silver and light slate blue are considered neutral colors too if you need to give the space more color, but again, choose the one that works best with the room's existing color palette. To meld the bathroom's old and new looks, carry the new tile from the surround to an adjoining wall, such as the one behind the vanity.
Stay True to Your Style
If you're happy with your master bathroom's existing style, incorporate it into your shower or tub redesign. It's hard to go wrong with a classic all-white design, or one that's inspired by a spa, but if you want to shake it up a little, consider adding wood-look tile around the shower or tub. A wood-look tile plank, like tile from the
Creekwood
glazed porcelain collection, works well with many styles and color palettes, and it's ideal for both the bathroom and bedroom. Simply put, you can create a seamless visual connection by carrying the look into the master suite and installing wood-look tile on the floor or as a feature wall behind the tub.
Pick the Right Metal Finishes
Again, although you likely won't be able to match your new tile with what currently exists in your bathroom, you can use tile to complement the metal details, like light fixtures, faucets, and drawer pulls which play an important role in the design flow. Without proper flow or some form of visual consistency, the result could be an unattractive or confusing design aesthetic. So, if the vanity faucet is oil-rubbed bronze, then the shower or tub faucets and metal parts should be oil-rubbed bronze, too. If you want to play up the metal effect, even more, incorporate complementary metallic accent tiles into your surround and backsplash.

Don't Forget the Finishing Touches
When your shower or bath remodel is complete, secure a cohesive look by choosing the right accessories and linens. Scan the bedroom for color ideas or take this opportunity to reimagine the entire scheme by replacing dated towels, bedding, window treatments, and artwork with modern options.
You don't have to redo your entire master bathroom to make the space feel fresh and updated. Instead, work with what you have and plan a tub or shower remodel. By using these tips, you'll be able to visually connect the new with the old, and you'll end up with a design you can enjoy for years to come.