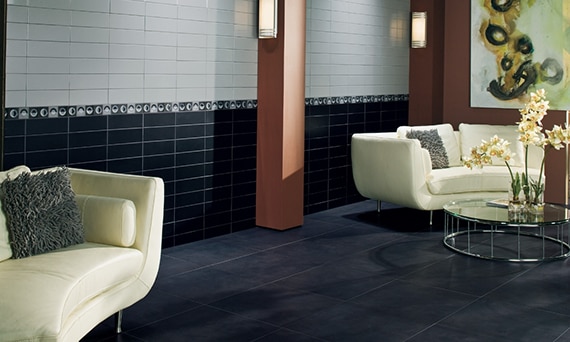 4 Ways Tile Trim Can Enhance Your Projects
Whether you're trying to give a polished look to your floor, wall, fireplace, or your outdoor patio area, the right tile trim can add a sophisticated finishing touch to any tile installation project. Not only does trim tile look great when used for residential projects, but it's also a great addition to commercial designs. Here are four ways you can use a decorative or accent trim to complete your tile project.
1. Add a Finishing Touch to Your Fireplace
Tile can turn an ordinary fireplace into a beautiful focal point in any room. Start by choosing a decorative tile that catches the eye, then add a trim tile that is the same shade to help transition the tile into the other fireplace materials. Choose a colored tile to border the hearth of your fireplace or mantel to transform your fireplace from a functional element into a piece of art.
2. Polish Off Your Bathroom and Kitchen Tile
Trim tile comes in a wide range of sizes and colors and is the perfect way to complete a tile project in a commercial bathroom or kitchen. When used in a border, trim tile provides decorative interest and breaks up large tiled areas. Trim tile creates a contrasting border on countertops or backsplashes, for example. If you're using trim tile to add a streamlined look to your kitchen tile projects, select a bullnose or counter rail tile. Bullnose tile is rounded, and counter rail tile is more square-shaped, but both will complete your tile projects with a clean finish. Cove base tile is another trim option that will give your floor tile a finished look.
3. Define Your Spaces
Trim tile is available in smooth, carved, and textured styles, and can be used to define certain areas of your commercial space. For instance, create a border that is different from, but complementary, to your flooring tile. If you're working with an open floor plan, trim tile is a great way to define certain areas. A great example of this is using it to create a border underneath a table in a lobby or sitting area.
4. Connect Indoor and Outdoor Spaces
When you're completing an outdoor project, it might be easy to forget the finishing touches. Trim tile, however, is the perfect way to make your outdoor spaces pop. Whether your outdoor area is a simple patio or an extravagant outdoor kitchen and living area, trim tile can enhance the flooring, walls, and cabinetry. You can also create a design flow between your indoor and outdoor areas by using similar tile and trim between the two spaces.
Tile trim adds a sophisticated and professional look to your projects and makes great tile designs even better. The array of trim tile options that American Olean offers will ensure that tile trim can be compatible with projects of any scope.