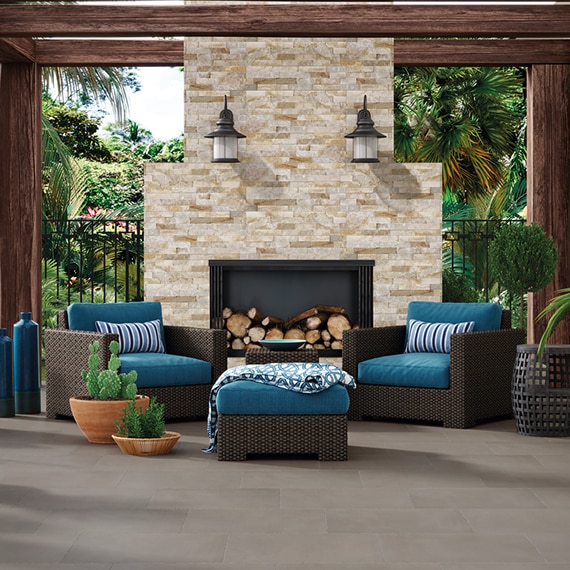 3 Outdoor Living Space Remodel Ideas to Create a Sleek Modern Style
Your outdoor living space is an extension of your home and if summer barbecues and backyard parties are in your near future, it's time to take a good look at your outdoor space and decide if it is truly party-worthy. Do your patio tiles leave a lot to be desired or do you just need to spruce up and replace a few cracked or broken tiles? Whatever your situation, American Olean has the perfect tile for your exterior space.
Identify Any Problem Spots
Before you overhaul your patio or add design pieces, identify the worst areas in need of repair. Harsh winters and heavy springtime rain can damage your patio floor, making it shift or crack under the elements. Although cracked tiles are easy to spot, you'll want to look closer and check for any uneven portions of your patio.

From your yard, get on the ground to get eye level with your patio. Make note of any tiles that are raised or sunken compared to the surrounding ones. Fortunately, sprucing up your hardscape can be as simple as removing the damaged pieces, replacing the mortar underneath, and filling the gaps with a new tile, but if you find that your patio is badly damaged and out of your skillset to repair, we suggest calling a contractor.

If you need to completely replace your outdoor flooring, go with a versatile, long-lasting tile suited for exterior installations.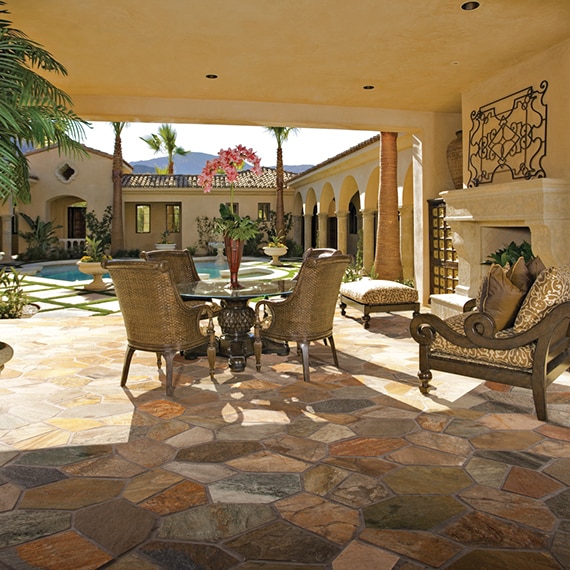 Get Inspired By Design Trends
Repairing or replacing your hardscape allows you to either complement the design of your home or to create an entirely new outdoor living space with its own unique charm. Consider creating feature walls or update outdoor fireplaces using Stacked Stone for an elegant natural appeal. No matter the goal, most homeowners will want to upgrade, and they are seeking variety in their outdoor tile options.
Natural stone tile is always a top choice for homeowners looking for smooth, natural textures that are also long-lasting. Stone-look porcelain tile and natural stone tile and are extremely popular options because they are available in a variety of styles and finishes, they work well in outdoor spaces, and they blend seamlessly within a natural environment. And, with proper sealing and maintenance, homeowners can enjoy many years of outdoor activities on their beautiful stone patio floor.
American Olean's Slate Collection has a variety of shades and size options. This series is a great example of how natural stone tile can offer the beauty of high-end floor tile and possess the strength and durability needed for outdoor conditions.

Consider Large Tiles
Patio areas and exterior spaces can exceed several hundred square feet, and homeowners with large patios should opt for larger patio tiles for a cleaner, more modern appeal. Large format tile, like 12" x 18" sizes, look amazing on larger patios because they reduce the number of visible grout lines between the tiles, giving the patio an expansive, seamless look.

When designing a new outdoor space, make sure you consider all the factors that will make your project a success. Selecting tile that is durable, stylish and available in large format sizes can add timeless beauty and enjoyment to your home for years. Explore American Olean's tile collections today.