Merchandising Tools
American Olean is committed to your success and offer these Showroom Displays designed to grow your business.
Inspiration Center Display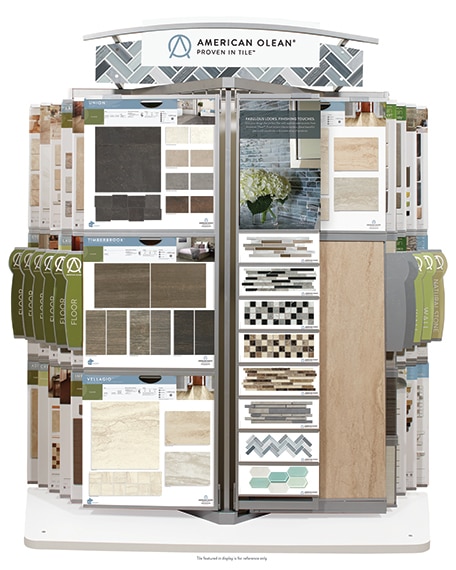 The winged display showcases up to 54 feature panels, 25 Finishing Touches accent boards, and double-sided wings support 12" x 24" product and/or plank product.
- Strong visible branding
- Finishing Touches accents
- Two adjustable wings for large-format tile
*Packout included with purchase of display
Part Number: 0000AODSPIC18
Size: 77.5" W x 36" D x 93" H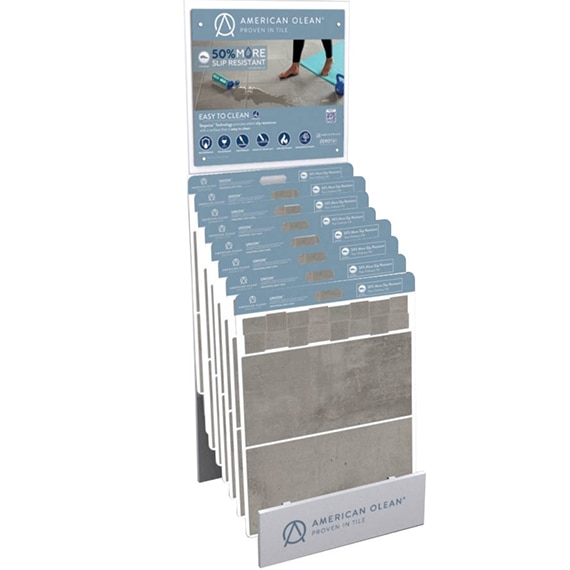 The Focus Display promotes the slip resistant benefits of StepWise™ Technology and the key selling attributes of tile.
This stunning display features three series with Stepwise Technology: Neoconcrete™, Union™ and Merit™.
* Packout included with purchase of display.
Part Number: 0000AODSPFCS19
Size: 24" W x 68" H x 24" D
Designed to be easily customizable, American Olean's latest display offers multiple merchandising options.
- Flexibility to hold multiple sizes
- Large-format 24" x 48"
- Up to 20 12" x 24" loose tile samples
- Can hold up to 10 Feature Panels
*Does NOT ship with product nor feature panels (must be ordered separately)
Part Number: 0000AODSPUNRISR
Size: 4.25" H x 15.5" W x 14" D