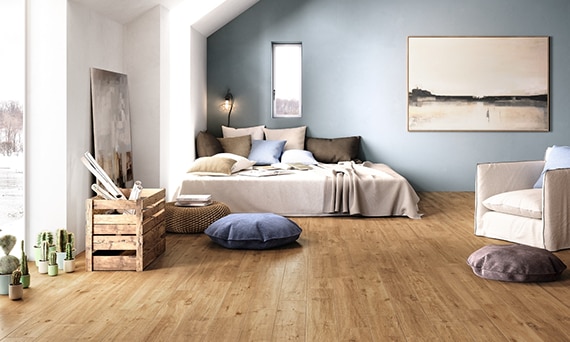 Use Wood Effects Tile to Add Style to Every Room
Whether used in an accent wall or floor design, wood-look tile offers the beauty of real wood in a durable, long-lasting material, without the maintenance of hardwoods. Wood-look tile is the perfect residential design element and this innovative product makes it possible to place the look of wood virtually anywhere.

Here are some tips on how to incorporate it into residential design.
Make the Countertops, Floor, or Wall Stand Out
Make bathroom or kitchen countertops stand out by adding a wood effects tile trim. This element adds color and depth to the overall design, and really differentiates a space. It is also great as a flooring material and perfect for adding the gorgeous look of hardwood floors to areas that are susceptible to moisture. For a subtler look, consider adding wood effects tile to accent an existing tile pattern. It can be added to the middle of the floor, for example, or as a chair rail to create a unique look.
Accent the Tub or Shower
Add a distinct tile design to shower surrounds or bathtubs with wood-look tile. Enjoy the rustic look of hardwood without worrying about it standing up to water and moisture. Also, to add even more unique style, create a wood-paneled feature wall in your bathroom.

Wood-look tile is available in a variety of colors and realistic plank shapes, and each tile offers a grain effect that resembles real wood with its own unique properties. It's versatile, easy to clean, and resistant to moisture which is why wood-look tile is a great, stylish option that also stands the test of time. Check out American Olean's selection of wood look tile.
Add an Accent Wall or Backsplash
Cover an entire wall, or a large portion of it, with wood-look tile to create a show-stopping effect. In the kitchen, for example, because of its warmth and ability to complement any existing cabinetry, wood-inspired tile looks stunning when used as a backsplash. And, mixing and matching wood-look tile with other types of tile is also a great way to add a variety of tones and textures to a space.

A natural stone or wood-look tile backsplash, for instance, is a perfect way to connect wood cabinetry and stone countertops. If you want to add wood-look tile to a bedroom, consider installing wood-look tile on the wall behind the bed to create a rustic but modern focal point.