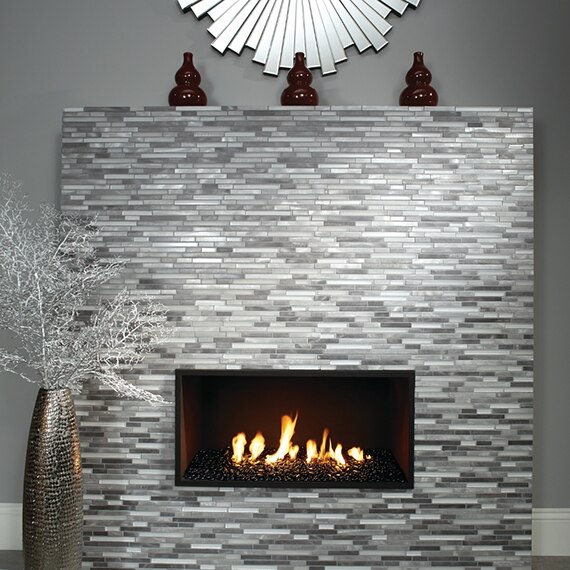 5 Unique Ways to Use Glass Mosaic Tile
A mosaic tile backsplash is a perfect element to plan your design around because it comes in a wide range of color schemes and it's easy to clean. While you've probably considered incorporating a glass mosaic backsplash into your kitchen or bathroom, there are many other ways you can use mosaics in your home. Glass mosaics can liven up a bedroom, living room, dining room, or even a pantry.

Check out these ideas to jump-start your next creative project with glass mosaic tile.
Take Glass Mosaics Beyond the Backsplash
If you plan to use glass mosaic tile in your bathroom, why stop at the backsplash? The small bacteria-resistant tiles make an ideal toilet or shower surround, and they can also transform a dated tub into a piece of art when carried along its surrounding walls and front-facing apron. Use an all-glass mosaic pattern or one that's mixed with metal or stone for an even more modern approach. If you use bright-colored tile, tame its bold look with other neutral elements. You can achieve this by introducing white porcelain fixtures, slate flooring, and wood or other neutral-colored accents.
Use Glass Mosaic Tile in the Living Room
Yes, you can use glass mosaic tile as a fireplace surround, but you can also use it to create an elaborate focal wall too? Imagine a floor-to-ceiling wall of beautiful, colorful glass mosaics that solidifies the overall look of a room. The light reflection of this type of feature wall is only part of its appeal because this striking display also acts as a smooth backdrop for plush seating. A glass mosaic wall also contributes to the textural balance and interest of a room, which is key to preventing your space from appearing flat and boring. Center a show-stopping medallion amid the tiny tiles or bypass the need for artwork by randomly placing three to five smaller medallions on a large wall.
Give the Pantry Some Pizzazz
Who says a pantry must be plain? With a glass mosaic tile pattern on the walls, you can transform this space into an area that is stylish and complements your home. Tile safeguards walls from dings and nicks and glass tile offers light reflection that will make this small space seem bigger and brighter than it appears.
Revamp Your Dining Room
Like the living room, showcasing medallions in a feature wall of mosaic tile gives a dining room upscale appeal. Although you could replicate the look of the adjoining kitchen's backsplash, the result may be a little overstated. Instead, use a simple white subway tile in the kitchen, then jazz it up with an accent tile strip. The strip will act as a subtle visual connection to the dining room's tile focal point.
Form a Tiled Headboard on the Bedroom Wall
When you're looking for a headboard that goes beyond the typical padded or spindle styles, install your own glass mosaic headboard directly on the wall. This is a glitzy, versatile design element that can work for various styles, from old-Hollywood glam to shabby chic. A smooth, cool surface that provides a background for lush, warm bedding can form textural balance for a bedroom that's anything but a visual snooze.

There are many ways you can transform your home using glass mosaic tile. If you're feeling inspired, check out American Olean's Virtual Catalog to get your design underway today.